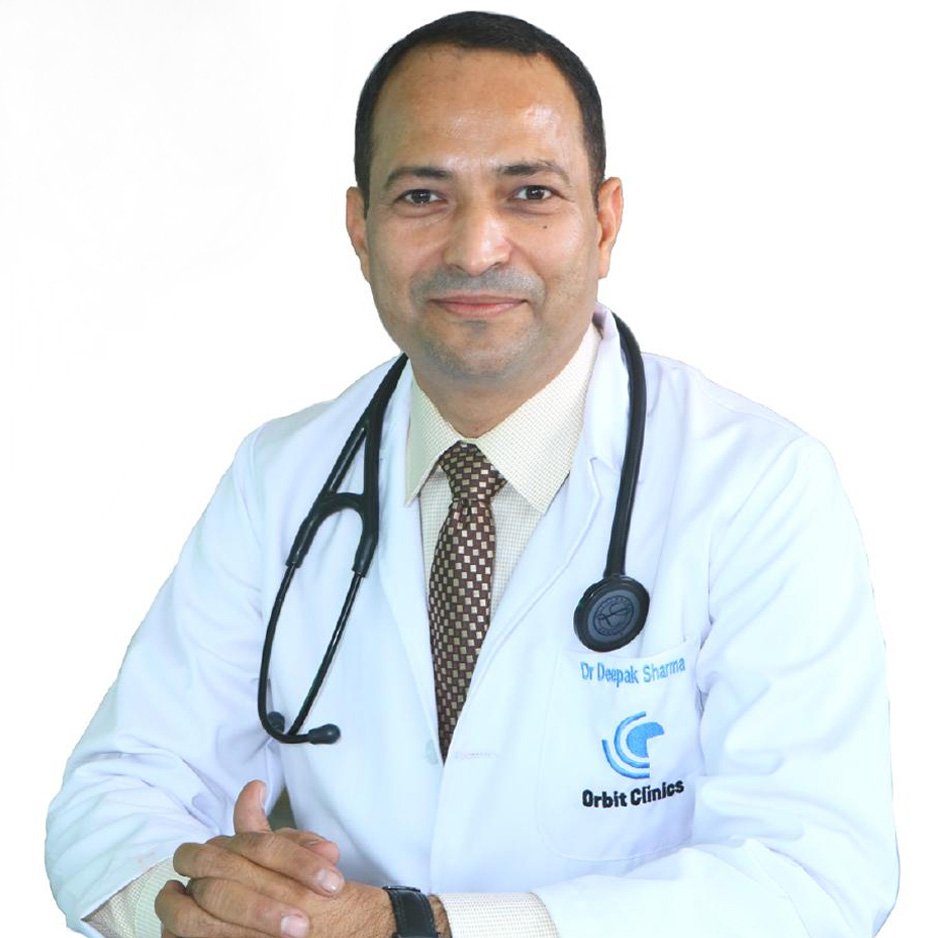 BHMS, MD
Founder and Director
He is the founder director of orbit clinics a qualified, government registered Homeopathic physician in various reputable hospitals in Delhi and the NCR. He completed his B.H.M.S. (Bachelor of Homeopathic Medicine and Surgery) at National Homeopathic Medical College and Hospital, Lucknow – one of the oldest homeopathic medical colleges in Asia – in 2004. He has been in practice since 2004. He is dedicated to spread the awareness of Homeopathy through his knowledge and skills with help of Orbit Clinics, HWC and Exploring Homeopathy. His network is spreading throughout India and abroad to explore the field of Homeopathy including dedicated professionals from various fields to ensure the good quality of treatments the network includes.
He is now lecturer of community medicine in Naiminath Homeopathic Medical College, Agra; General Secretary of Delhi Homeopathic Medical Association (Regd.) DHMA; Life Member of South Delhi Homeopathic Medical Association SDHA; Admin of Homeopathic World Community, USA; Member of Liga Medicorum Homoeopathica Internationalis (LMHI) and recently elected as Vice Chairmen of World Homeopathic Awareness Organization USA, WHAO.
He is co-host of "Health Inn" (A live video lectures on HWC) every Monday from 8:30 to 9:30 pm IST Click here to join
He is treating more than 10,000 worldwide patients in a small span of his life, he is dedicated to promote Homeopathy worldwide. During the study period, he cured many cases, including an 18 day old male baby cured of hydrocephalus, dupuytren's contracture, Back Pains, Hyperhydrosis and many more with the help of homeopathy.
He worked as senior consultant at Panacea Homeopathic Clinic and Dr. Sharma's Innovative Health Care Centre and now senior consultant at Holy Child Nursing Home in East Delhi, Amarleela Hospital in West Delhi, Smile Care Poly Clinic in Ghaziabad, visiting consultant at Anshuman Homeopathic Clinic in Ghaziabad, Dental Square in Roorkee.
He is the author of Diabetes Mellitus and Homeopathy – an article which includes the miasmatic background and contains discussion on diabetes mellitus and its remedies with selected potencies. It was published in Homoeopathic Heritage a monthly magazine published by B. Jain Publishers PVT Limited, New Delhi in March 2004 Vol. 29 page no. 15- 22. A newer edition of the same article is currently published in a souvenir presented at the annual function of the Board of Homoeopathic system of Medicine, Delhi and Homoeopathic Federation 2010, Published in ASIAN JOURNAL OF HOMOEOPATHY Vol. 4 No. 3 (12) August 2010-October 2010 and also at similima.com Dr. Sharma answers the queries in Health Harbinger a monthly newsletter published by Panacea Homoeopathic Clinic Gurgaon and, in addition, authored an article titled, "Do Homoeopathic Medicines Contain Steroids?" for his innovative health care centre. Other current writings include "Complications of Diabetes Mellitus and its Miasmatic Involvement" and "Back Pain – Homeopathic Treatment and Management". Dr. Sharma received many awards at various seminars, debates and different curricular. Recently he was awarded with the "HAHNEMANN AWARD 2010" given by Dr. S.P.S. Bakshi and Dr. S.M. Singh in the auspicious presence of Dr. A. K. Walia (Finance Minister of Delhi Government) at the annual function of the 255th Birthday of Dr. C.F.S. Hahnemann on 25 April 2010 and organized by Board of Homoeopathic System of Medicine and Delhi Homoeopathic Federation.